It's amazing how a humble ingredient such as a potato can be turned into an unforgettable dish when cooked right. This rendition of Potatoes Au Gratin is a tasty marriage of potatoes and cheese; a hearty addition to any meal.
Cuisine : European Course : Main Skill Level : Novice
Prep : 10 mins Cook : 40 mins Ready in : 50 mins Serves : 2

---
INGREDIENTS:
300ml Whipping Cream
2 tbsp Maggi Concentrated Chicken Stock
½ tsp Nutmeg Powder
4 Medium Potatoes (peeled and thinly sliced)
100g Emmental/Parmesan Cheese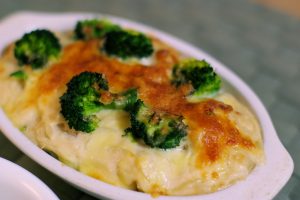 DIRECTIONS:
Whisk cream, concentrated chicken stock and nutmeg powder together.
In a baking container, spread a few spoonfuls of cream at the base before arranging a layer of potatoes over. Spoon more cream over the potatoes and add another layer of potatoes. Repeat until all the potatoes are used up.
Preheat oven @ 160°C. Sprinkle cheese over the potatoes and bake for 30-40 minutes until a knife or skewer can be inserted easily.