This light and fluffy Mocha Swiss Roll is baked to perfection by Chef Julie Yee is a perfect dessert for coffee lovers.
Cuisine : Baking Course : Appetizer Skill Level : Novice
Prep : 20 mins Cook : 10 mins Ready in : 30 mins Serves : 10

---
INGREDIENTS:
Group 1
70g Cake /Top/HK Flour
1 tbsp Nescafe Coffee Granula
½ tsp Baking Powder
Group 2
3 no. (110g) Egg White
5 no. (100g) Egg Yolk
70g Fine Sugar
1 tsp Vanilla Extract
Group 3
40g Hot Corn Oil
40g Hot Milk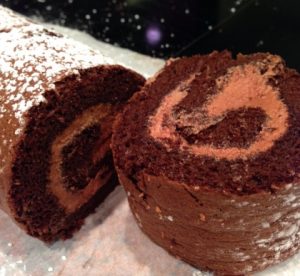 DIRECTIONS:
Sift Group 1(Cake flour, coffee granula, baking powder) together.
Beat egg white till soft peak with sugar, add in egg yolk & vanilla
Whisk Group 2 (Egg white, egg yolk, fine sugar, vanilla extract) till thick & ribbon stage.
Pour in the warm milk & whisk for another few seconds.
Hand fold sifted flour.
Hand fold the warm oil.
Bake at 200°C for 10mins.
Cover with a clean wet towel till use.