Most people cannot eat their chicken rice without this specific chili sauce! Garlic, lime and chicken stock makes this chili sauce unique to chicken rice. Substituting lime with lemon will produce a totally different taste profile.
Cuisine : Asian Course : Condiment Skill Level : Novice
Prep : 10 mins Cook : 0 mins Ready in : 10 mins Serves : 10

---
INGREDIENTS:
5 pieces of Red Chillies (roughly sliced)
5 cloves of Garlic
2 tbsp Lime Juice (or 6 small kalamansi)
200ml Chicken Stock
½ tsp Salt
1 tsp Sugar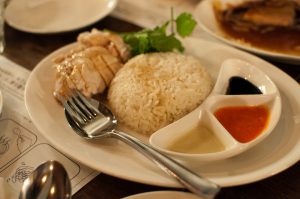 DIRECTIONS:
Blend all ingredients in a juice blender and chill until ready to use.