A classic dish of Stewed Pork with Beanskin Knots, this will instantly stir up heart-warming childhood memories. Turn ordinary ingredients into a richly flavoured dish that will please everyone in your family!
Cuisine : Asian Course : Main Skill Level : Novice
Prep : 15 mins Cook : 100 mins Ready in : 115 mins Serves : 4

---
INGREDIENTS:
500g Streaky Pork Belly (cut into cubes)
2 tbsp Oil (for cooking)
30g Old Ginger (sliced)
6-8 cloves of Whole Unpeeled Garlic
1 piece of Cinnamon Stick
2 pieces of Star Anise
100g Japanese Scallions (sliced)
40g Rock Sugar
150ml Light Soya Sauce
2 tbsp Dark Soya Sauce
150ml Shaoxing Huatiao Rice Wine
100g Dried Beancurd Skin Knots (soaked)
700ml Water
Salt (to taste)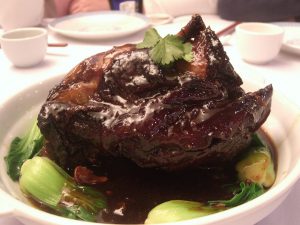 DIRECTIONS:
In a larger pot of boiling water, blanch streaky pork and refresh with cold water. Drain and set aside.
In a braising pot, heat oil and sauté ginger and garlic till fragrant. Add Japanese scallions and return pork to braising pot.
Add rock sugar, two soya sauces and pour in Foochow Rice Wine. Stir in soaked beancurd knots.
Pour in water, bring to boil, simmer for 60-90minutes till pork is tender. Drain and discard away spices.
Recombine pork with bean curd skin knots and sauce. Bring to boil, season with salt to taste and serve.