This Korean Ginseng Chicken Soup is nourishing, rejuvenating made with ginseng and stuffed with glutinous rice.
Cuisine : Asian Course : Main Skill Level : Novice
Prep : 20 mins Cook : 35 mins Ready in : 55 mins Serves : 2-3 Servings

---
INGREDIENTS:
1 Chicken Griller (not more than 1 kg)
1/3 cup White Glutinous Rice
1 sprig of Spring Onion
4 Cloves Garlic
1 Whole Fresh Ginseng
3 Red Dates (Jujube)
1-2 cups Waters
4 Peeled Fresh Ginko Nuts
Salt and Pepper to taste
CHICKEN STOCK

1 Carrot, diced
1 White onion, sliced
2 Chicken Bones
1L Water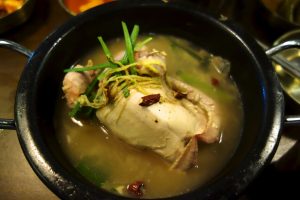 DIRECTIONS
Soak the glutinous rice for at least 1 hour before use.
In a pot, put in fresh ginseng and soft boil for 5 minutes.
Wash the chicken griller and stuff in the cavity with red dates, spring onion, garlic, ginko nuts and seal it well.
Place the chicken, breast up and half cover the pot and cook for at least 45 minutes at medium low fire. Remove any scum along the way.
The soup is ready when the rice are transparent and soup are slightly milky. Add in dash of salt and pepper to taste.
Serve the soup hot with a generous sprinkle of scallion.
DIRECTIONS FOR CHICKEN STOCK
Boil all the ingredients together for 2 hours.
Remove any scum and use 1- 2 cups for Ginseng chicken soup base.