These Lemon Blueberry Cream scones are tangy and loaded with fresh blueberries are soft and fluffy!
Cuisine : Baking Course : Dessert Skill Level : Novice
Prep : 20 mins Cook : 15 mins Ready in : 35 mins Serves : 6-8

---
INGREDIENTS:
280 g Cake Flour
1 tbsp / 15 g Baking Powder
40 g White Caster Sugar
1/4 tsp Sea Salt/Fine Salt
70 g Unsalted Butter, Cold & Cubed
80 g Fresh Blueberries
215 g Whipping Cream, Cold
15 g Lemon Juice
Zest of a lemon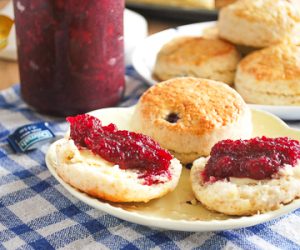 DIRECTIONS:
Preheat oven to 220°C / 200°C Fan
Combine dry ingredients in a large mixing bowl.
Rub butter into dry ingredients till it forms fine crumbs.
Slowly add cream to form dough.
Knead very lightly. Add blueberries into the dough. Do not over mix the dough.
Flour your worktop.
Roll the dough to 3cm thickness. Cut the dough into 2-3" rounds.
Re roll remaining dough *Do note these won't be as fluffy.
Place them on baking paper lined trays. About 2" apart.
Brush tops with egg wash.
Bake for 12-15mins till the tops are golden brown.
* Keep at room temperature for up to 3 days.