Crisp on the outside and deliciously fluffy on the inside, Mexican buns are great with coffee or just as an afternoon snack. 
Cuisine : Baking Course : Dessert Skill Level : Novice
Prep : 90 mins Cook : 30 mins Ready in : 120 mins Serves : 12 pcs

---
INGREDIENTS:
300gm Bread Flour
90gm Plain Flour
15gm Milk Powder
11gm / 1pkt Yeast
210gm Water
60gm Sugar
90gm Egg
½ teasp. Salt
70gm Crisco Shortening
** Butter cubes

For The Coffee Topping Group 1

Group 2

12gm Milk Powder
25gm UHT Milk
¼ teasp. Salt
30gm Egg
1 teasp. Coffee paste/ Emulco

Group 3

40gm Plain Flour
20gm Rice Flour
1/8 teasp Baking Soda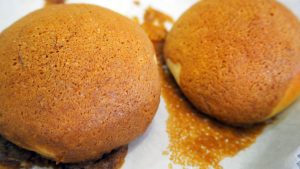 DIRECTIONS:
         For the Mexican Bun
Mix all Group1 ingredients & knead till "Pick-up" stage.

Add in Group 2 & knead till "Developed "stage.

Round dough & leave to ferment 1hr.

Scale into 60gm. Wrap 1 small pc butter & round into ball.

Sprinkle water on top & proof till double.

Pipe coffee mixture on top.

Bake at 190ºC for 12mins.

For the Topping

Mix butter & sugar until creamy

Add in the egg & beat well mix well.

Then, add in (Grp. 2) sifted flour (Grp. 3).