Enjoy the best taste of chocolate with this easy-to-bake Nama Chocolate recipe shared by Chef Thripti!
Cuisine : Baking Course : Dessert Skill Level : Novice
Prep : 5 mins Cook : 120 mins Ready in : 125 mins Serves : 4

---
INGREDIENTS:
160g Dark chocolate (65%)
90ml Cream
10g Butter
12g Liquid glucose
5 tbsp Cocoa (for coating)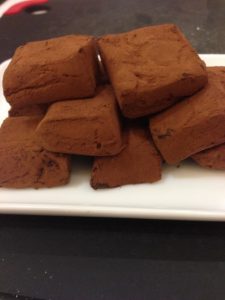 DIRECTIONS:
Put all the ingredients in a Bain Marie except the cocoa.
Stir until the chocolate melts and is smooth.
Take it off the heat and continue to stir until it comes to room temperature. (You may do this over a bowl of ice to achieve quicker results.)
Line a 4 inch square mould with cling wrap. Pour in the chocolate and refrigerate until set for about an hour or two.
Demould. Slice and coat in cocoa.