What can be more satisfying than two perfectly poached eggs blanketed in a smooth hollandaise sauce? Try this recipe today!
Cuisine : European Course : Main Skill Level : Novice
Prep : 5 mins Cook : 20 mins Ready in : 25 mins Serves : 2

---
INGREDIENTS:
2 tsps White wine vinegar
4 Eggs
2 tbs Salted butter, softened
2 pcs Muffins, split in half
4 pcs Bacon
Classic Hollandaise Sauce
4 large Egg yolks
2 tbs Fresh lemon juice
1 tbs Mustard (optional)
6oz (12 tbs) Unsalted butter, melted
Pinch Cayenne or a few drops of hot pepper sauce
Salt to taste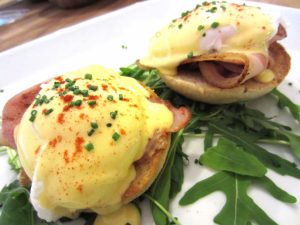 DIRECTIONS:
Position a large heatproof bowl over a pot of barely simmering water, making sure the bottom of the bowl doesn't touch the water.
In the bowl, whisk the yolks, lemon juice, and mustard (if using) until well combined. Gradually whisk in the butter in a thin stream and keep whisking until the sauce is thick enough for the whisk to leave tracks that hold for a couple of seconds, 1 to 2 minutes.
If the sauce is too thick, whisk in a few drops of hot water to thin it. Whisk in the cayenne or hot sauce and season to taste with salt.
Keep the sauce warm in its bowl set over the simmering water, whisking occasionally, until ready to use.


Sauce:

Place everything except the melted butter into a container, and blend with a stick blender.

Pour the butter in gradually and continue to blend until smooth.