This simple-to-cook Mentaiko Spaghetti requires very little cooking and taste absolutely fantastic!
Cuisine : Fusion Course : Main Skill Level : Novice
Prep : 10 mins Cook : 10 mins Ready in : 20 mins Serves : 2

---
INGREDIENTS:
1 Roe sac of spicy pickled pollock roe (Mentaiko)
1 tbsp Japanese mayonnaise or heavy cream
1 tbsp Japanese cooking wine (sake, or for a sweeter taste mirin)
Japanese soy sauce (shoyu)
1/2 tsp Olive oil or melted butter
1 tbsp A generous heap of toasted and shredded nori seaweed
2 servings of Pasta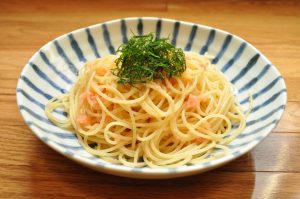 DIRECTIONS:
Bring a pot of water to a boil. Add pasta to cook as per instructions on packaging.
While waiting for pasta to cook, prepare Mentaiko dressing.
Make a slit through the sac membrane of the Mentaiko lengthwise and scrape out the spicy picked Pollock row with a dessertspoon into a mixing bowl. Set aside one heap tbsp for garnishing.
Add mayonnaise or cream, cooking wine, soy sauce and finally melted butter or olive oil.
Whisk quickly to emulsify and homogenize the mixture. When the pasta is cooked al dente, drain slightly and transfer into the mixing bowl.
Give the pasta and Mentaiko dressing a good toss and plate for serving.
Top the pasta with shredded nori and finally the heap of Mentaiko.