If you love Oreos and cheesecake, than this is the perfect dessert for you! Chef Julie will be sharing the recipe for this ultimate Marbled Oreo Cheesecake
Cuisine : Baking Course : Dessert Skill Level : Novice
Prep : 60 mins Cook : 60 mins Ready in : 120 mins Serves : 12

---
INGREDIENTS:
For the Cheesecake Group 1

400g Cream cheese
150g Castor sugar
1 tsp Lemon juice
20g Plain flour
1 tsp Vanilla essence
4 nos. Egg yolk

Group 2 (Fold in) 

70g Dairy whipping cream (35%)
3 nos. Egg white
60g Castor sugar
50g *Oreo cookies (¼ size)

For the Crust

200g Oreo cookies (crushed)
70g Salted butter
5 tsp Honey*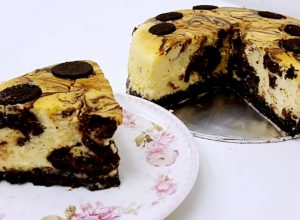 DIRECTIONS:
        For the Cheesecake
Beat cream cheese and lemon juice at slow speed for 5 mins.

Add in sugar slowly until all completed.

Add flour in and mix well.

Pour in the yolk slowly.

Beat egg whites till soft peaks form.

Fold in the whipped cream and egg whites into cream mixture.

Bake in bain marie (hot water bath) at 150°C for about 30 mins then reduce to 130°C for another 30 mins. Leave cake in oven for 10 mins (with oven door open).

For the Crust

Melt butter and add in all the ingredients.