A well-loved dish in Asia, braised pork belly is succulent, tender and oh-so-satisfying. Try Chef Audra Morrice's take on incorporating the pork belly with handmade egg noodles and kimchi! This is an indulgent dish, but definitely worth the treat!
Cuisine : Asian Course : Main Skill Level : Novice
Prep : 30 mins Cook : 35 mins Ready in : 65 mins Serves : 4

---
INGREDIENTS:
400g Pork belly, cleaned and trimmed
Braising Stock
2 tbsp Vegetable oil
1 tsp Black peppercorns
2 Baby leeks, or 1 medium leek, washed and trimmed
4 sprigs Spring onion, washed, root discarded
1½ cups Beef stock
½ cup Chicken stock
¼ cup Light soy
2-3 tbsp Black vinegar

Boiled Eggs

2 Free-range eggs, room temperature

Egg Noodles

200g "00" flour
3 Egg yolks
1 Egg
Pinch of salt
1 tbsp Olive oil

To serve:

150g Kimchi
2 sprigs Spring onion, darker green leaves only, thinly sliced
Shiso leaves, for garnish (optional)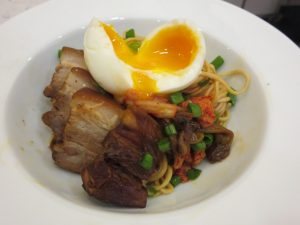 DIRECTIONS:
Start with the braising stock by heating the oil in a pressure cooker over a medium high heat. Add the peppercorns, leeks and spring onion and cook for 2 mins. Pour in both stocks, soy sauce and black vinegar and bring to the boil.