Melonpan is a Japanese sweet bread with a thin cookie crust at the top which is soft and fluffy inside and crispy outside!
Cuisine : Baking Course : Dessert Skill Level : Novice
Prep : 105 mins Cook : 12 mins Ready in : 117 mins Serves : 4-6

---
INGREDIENTS:
240 g Bread Flour
50 g Cake Flour
10 g Milk Powder
1/2 tsp Salt
40 g Sugar
150 g Water
30 g UHT Milk
7 g (1 3/4 tsp) Yeast
20 g Egg
25 g Crisco Shortening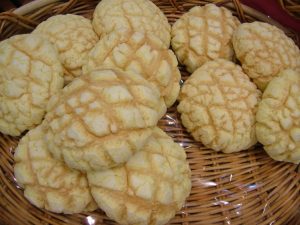 DIRECTIONS:
Mix the dry ingredients together.
Add in the egg, yeast and ice water.
Add in the shortening and knead till gluten has formed.
Let it ferment for 45mins and punch down.
Scale into 50gm.
Wrap the filling. Proof it for 30mins to 45mins till it double in size.
Cover the greased lid and bake at low shelf @ 200C for 12mins.