Enjoy the symphony of cinnamon apple baked under a topping of oats crumble served with a tart yogurt cream that makes a well-balanced sweet treat!
Cuisine : Baking Course : Dessert Skill Level : Novice
Prep : 40 mins Cook : 55 mins
Ready in : 95 mins Serves : 6-8 servings
---
INGREDIENTS:
Ingredients for Yogurt Cream
150g Whipped Cream
100g Plain Yogurt
1 tbsp Honey
1/2 tsp Vanilla Extract
Ingredients for Cinnamon Apples
2 Red/Green Apple
1 tbsp Brown Sugar
1/4 tsp Cinnamon Powder
Ingredients for Oat Crumble
80g Unsalted Butter
70g Plain Flour
45g Rolled Oats
70g Brown Sugar
1/4 tsp Ground Cinnamon
1/8 tsp Sea Salt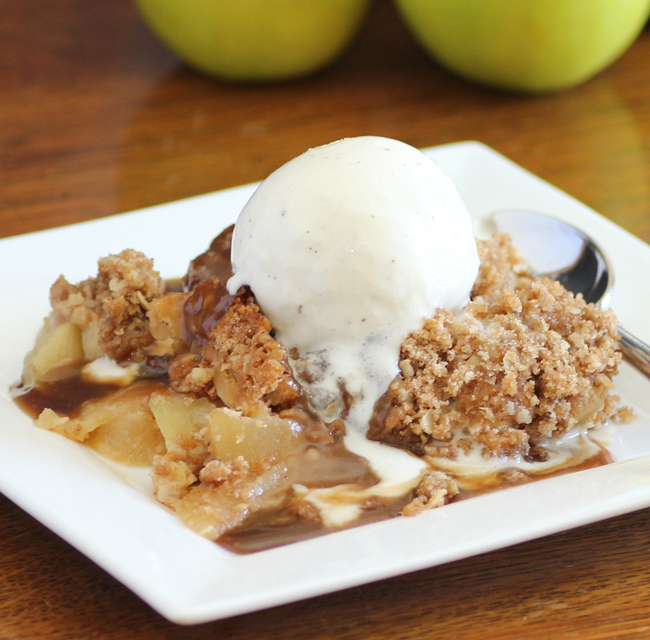 DIRECTIONS:
To make the Yogurt Cream, follow steps 2 to 4.
Whip the yogurt, honey and vanilla extract in a mixing bowl.
Fold in the whipped cream into the yogurt mixture.
Chill before serving.
To make the Cinnamon Apples, follow steps 6 to 11.
Pre-heat the oven to 180C.
Combine the brown sugar and cinnamon powder in a bowl.
Lightly spray a baking tray large enough to fit 4 apple halves.
Halve the apples lengthwise and use a spoon to scoop out the core, seeds and stem.
Arrange the apple halves in the baking tray with the flesh facing up.
Sprinkle the cinnamon sugar mixture over the apples and set it aside.
To make the Oats Crumble, follow steps 13 to 19.
Combine all the ingredients except butter in a medium bowl.
Melt the butter in a pan over medium heat.
Mix in the dry ingredients till well mixed.
Divide the toppings between 4 apples and gently press it down onto the apples.
Bake the apples and cover with aluminium foil for approximately 20-25 minutes.
Remove the cover and bake for another 20-30 minutes until the apples are soft and topping has browned.
Serve warm with yogurt cream.