Fluffy soufflé accented with matcha powder, this Matcha Souffle is simply irresistible!

Cuisine : Baking Course : Dessert Skill Level : Novice
Prep : 45 mins Cook : 15 mins Ready in : 60 mins Serves : 4

---
INGREDIENTS:
150ml Milk (Eggyolk Mixture)
100ml Heavy whipping cream (double cream) (Eggyolk Mixture)
3 Large yolks (Eggyolk Mixture)
2 tbsp Sugar (Eggyolk Mixture)
25g Flour (Eggyolk Mixture)
1-2 tbsp Matcha green tea powder (Eggyolk Mixture)
3 Egg whites (Egg white Mixture)
44g (4tbsp) Granulated sugar (Egg white Mixture)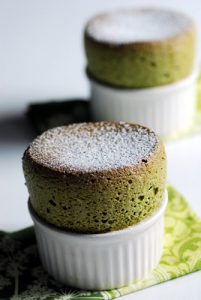 DIRECTIONS:
Preheat the oven to (200°C).
For the ramekins: Brush the ramekins with butter, and dust the insides with sugar.
Chill the ramekins in refrigerator to set.
For the egg yolk mixture, follow Steps 5 to 12
In a large bowl, beat the egg yolks and sugar together.
Sift the flour into the egg mixture and mix well.
Heat the milk and heavy cream in a small saucepan until almost boiling.
Add a one spoon hot milk mixture into the egg mixture and whisk well until the mixture is smooth.
Then gradually whisk in the rest of the milk mixture.
Pour the mixture back into the saucepan. Whisk the mixture ALL TIMES over a medium-low heat for 3-4 minutes until thickened and smooth. KEEP WHISKING during this process otherwise your custard will overcook and become clumpy.
When the egg yolk custard has thickened, immediately transfer to a bowl (otherwise remaining heat from the saucepan will "overcook" the mixture). Cover with plastic wrap and cool to room temperature (you can put in the fridge to make this process faster).
Once the custard has cool down, sift matcha green tea powder into the custard.
For the egg white mixture, follow Steps 14 to 20
Whisk the egg whites in a clean bowl till bubbles start to form.
Start adding sugar gradually a spoonful at a time. Once you add all the sugar, increase the speed to Level 8 and whisk to make a firm, glossy meringue, about 3-4 minutes.
Whisk ⅓ of the meringue into the custard and mix until homogenous.
Very carefully fold in the rest of the meringue using a rubber spatula. Do not over mix.
Divide the soufflé mix into the ramekins. Tap them on the work surface to level the mixture and run the thumb around the edge.
Place the ramekins on a baking tray and bake for 12-15 minutes until well risen and slightly golden on top. The soufflé should wobble gently in the middle when it's ready.
Dust with powder sugar and place on a plate. Serve immediately.