Join Chef Sarab as you get to learn how to make a Healthy Spiced Aubergine Salad that is healthy and delectable.
Cuisine : European Course : Condiment Skill Level : Novice
Prep : 140 mins Cook : 10 mins Ready in : 150 mins Serves : 2

---
INGREDIENTS:
2 small Aubergines – sliced thin
2 cloves of Garlic – crushed
2 tbsp Lemon Juice
1 tsp Roasted Cumin Seed Powder
1 small Cucumber – thinly sliced
2 Tomatoes – sliced
2 tbsp Natural Yoghurt – beaten smooth
4-5 tbsp Olive Oil
Salt & Black Pepper
Coriander leaves to garnish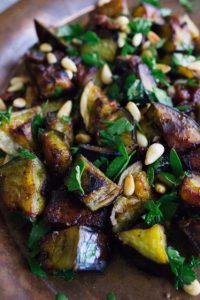 DIRECTIONS:
Grease a non-stick pan and cook the aubergine slices. Cut them into four pieces.
Mix the remaining oil, lemon juice, cumin and coriander powder, garlic, salt and pepper and stir in the aubergines. Mix well and chill for 2 hrs.
Add the cucumber and tomato slices. Transfer to a serving dish and spoon the yoghurt on top.
Sprinkle with coriander leaves.