These nutty, rich and crunchy tartlettes are perfect for any dessert table – learn the basic tartlette shell and you can be as creative as you want with the flavours! 
Cuisine : Baking Course : Dessert Skill Level : Novice
Prep : 30 mins Cook : 30 mins Ready in : 60 mins Serves : 4

---
INGREDIENTS:
For the Tartlette Shell

100g Pâte sablée sucrée
For the basic Pâte Sucrée
125g Unsalted butter
80g Icing sugar
1 Vanilla pod, pulp
40g White almond powder
1 Egg, 60g
200g Plain flour
1 pinch Salt

For the Almond Filling

70g White almond powder
70g Unsalted butter
90g Sugar
2 Eggs
½ pod Vanilla, pulp
2-3 drops Bitter almond extract
1 tbsp flour
100g Heavy cream, 35%
200g Sour cherries without pit (frozen)
50g Almond flakes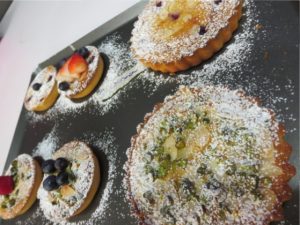 DIRECTIONS: 
          For the basic Pâte Sucrée
Using an electric mixer, mix the butter and icing sugar until creamy – add the vanilla pulp, salt, almonds, mix again, than add the egg and mix well. Sift the flour into the butter/egg cream, and then mix just until the dough comes together.

Remove the dough from the mixer, pat into a rectangle and cover in cling wrap. Refrigerate for at least one night before using.

For the Tartlette Shell

To line the tartlet shells: roll out the pâte sucrée to 5 mm thick. Cut 10 cm circles from the dough and with a spatula put it over the moulds and line them.

Trim the excess dough by pressing the rolling pin on the border of the tartlet moulds, in order to cut it off. Refrigerate for some hours.

For the Almond Filling

Preheat the oven at 200ºC.

Whisk the soft butter with sugar, almond powder, vanilla pulp and the bitter almond extract until very light and fluffy – add the eggs one per one, then the flour and the cream in a steady stream and continue to whisk until it doubled in volume.

Spread the almond filling on the bottom of the tartlet mould, add some frozen sour cherries and sprinkle the tartlets with some almond flakes.

Bake in the lowest part of the preheated oven for 25 to 30 minutes or until golden brown.

Take the tartlets out of their mould and let them cool out on a tray. Dust them with icing sugar.