Indulge in this delicious, creamy Matcha Milk Jam by Chef Claire Marie Chang to satisfy your matcha cravings! Taste fantastic by itself, even better with bread or cake!
Cuisine : Baking Course : Condiment Skill Level : Novice
Prep : 10 mins Cook : 60 mins Ready in : 70 mins Serves : 4-6

---
INGREDIENTS:
200g Cooking/Whipping Cream
150g Fresh Milk
1/4 Vanilla Bean Scraped (Optional)
40g White Caster Sugar
50g Fresh Milk
5tsp Ceremonial Grade Matcha Powder, sifted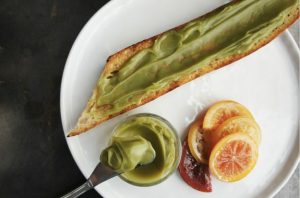 DIRECTIONS:
Combine Cream, Milk and Sugar in a pot.
Set to simmer for 30-45mins till reduced.
Combine Matcha Powder with fresh milk in a bowl.
Slowly whisk in cooked milk jam.
Sift mixture back into the pot and then set to simmer for 5-10 mins.

*This milk jam keep well chilled up to a month.