Instead of heading to the Satay Club for your satay fix, learn how to make your own rendition of this Singapore classic here!
Cuisine : Asian Course : Appetizer Skill Level : Novice
Prep : 30 mins Cook : 30 mins Ready in : 30 mins Serves : 10 sticks

---
INGREDIENTS:
Ingredients A

 

200g Chicken, boneless and skinless, sliced thinly

Ingredients B

5 Shallots
1 clove Garlic
4 stalks Lemongrass
1cm Galangal
1 tsp Ground Cumine
½ tsp Turmeric
1 tsp Salt
3 tbsp Palm Sugar
½ tbsp Kecap Manis
2 tbsp Groundnut Oil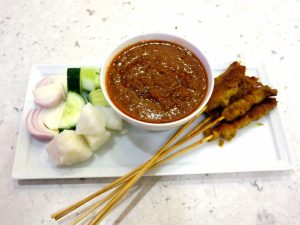 DIRECTIONS:
Place ingredients B in a blender and blend till smooth.
Marinate the chicken in the paste for at least an hour or overnight.
Thread the bamboo sticks with 2-3 pieces of mutton each.
Turn the oven grill setting on high. Grill for about 5 minutes per side, till cooked and slightly charred, generously basting with some oil as and when.