If you are fond of Matcha, you got to try this creamy Matcha Crème Brulee recipe by Chef Michele Ow!
Cuisine : Baking Course : Dessert Skill Level : Novice
Prep : 20 mins Cook : 20 mins Ready in : 160 mins Serves : 6

---
INGREDIENTS:
2 cups Heavy cream
1 Vanilla bean (or a dash of vanilla paste)
1 cup Castor sugar
1 tsp Matcha powder
6 no Egg yolks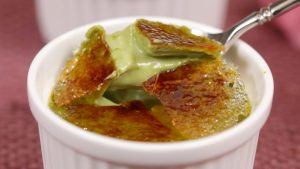 DIRECTIONS:
Whisk eggs yolks with sugar until pale yellow.
Add Matcha into the mixture.
In a saucepan, scald heavy cream with vanilla bean; allow to cool slightly.
Add cooled heavy cream in a thin stream into egg/sugar mix until incorporated.
Pour into 6 ramekins.
Put in a bain marie in oven @160'C for 20 mins.
Allow to set in fridge for at least 2 hours.
Pour vanilla sugar and torch before serving.