Pack this simple yet classic French salad made with pancetta bacon, potatoes and eggs for lunch this week!
Cuisine : European  Course : Appetizer Skill Level : Novice
Prep : 10 mins  Cook : 10 mins Ready in : 20 mins  Serves : 2 Servings
---
INGREDIENTS             
Dressing

1 tsp Plain Dijon or Whole Grain Dijon Mustard
 3 tbsp Lemon Juice or Red Wine Vinegar
3 tbsp Chopped Red Onion or Shallots
80ml Extra Virgin Olive Oil

Salad

200gm Assorted Lettuce Leaves (Mesclun), torn into bite size pieces
80g Pancetta Streaky Bacon, diced
2 no Hard Boiled Eggs
1 no Dutch Potatoes, peeled, sliced and boiled
30gm Parmesan Cheese, grated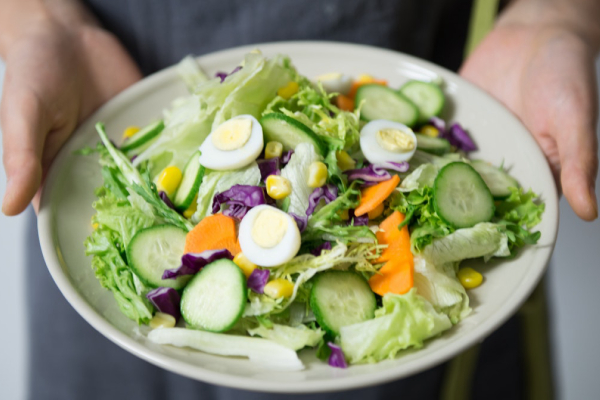 DIRECTIONS
Whisk all ingredients for dressing together and chill.
Divide lettuce leaves into 2 portions. Sauteed bacon till brown and sprinkle all over the salad. Arrange the sliced eggs and potatoes over the leaves.
Drizzle the dressing over the salad and sprinkle on the parmesan cheese.