Serve these crisp Cheesy Seaweed Bread Sticks alongside with a salad, a big bowl of soup or just enjoy it the way it is!
Cuisine : Baking Course : Dessert Skill Level : Novice
Prep : 15 mins Cook : 15 mins Ready in : 30 mins  Serves : 25 pieces
---
INGREDIENTS             
250gm Plain Flour
20gm Parmesan Cheese
2gm Black Pepper/ Seaweeds
2gm Herbs (any)
25gm Egg White
1/2 tsp Salt
1/2 tsp Instant Yeast
125gm Water
1 no Egg – for glazing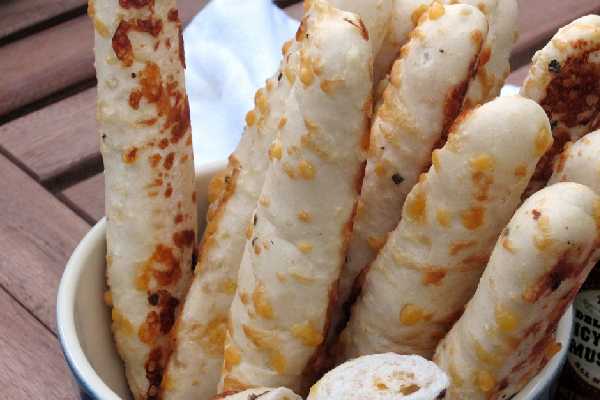 DIRECTIONS
Place all ingredients into kneading bowl. Knead until dough is formed.
Add butter and continue to knead until the dough can be stretched. Perform 'window panel test' by holding a dough of a golf ball size between your fingers and gently spreading your fingers and thumb apart thus stretching the dough into a thin translucent membrane like a windowpane. Cover and leave the dough aside to rest for about 30 minutes.
Turn dough out onto a well-floured work surface. Flatten the air and roll the dough out thinly into 1/2 cm thick. Cut into 1cm long strips.
Divide dough into 4 long logs and twist it and place in the aluminum foils.
Leave to proof till 60%. Glaze the dough with eggs.
Bake at 180C for 12-15 minutes.