Create a show-stopping Lychee & Rose Panna Cotta perfect for any occasion. It is light, delicate and easy to prepare!
Cuisine : Baking Course : Dessert Skill Level : Novice
Prep : 10 mins Cook : 15 mins Ready in : 145 mins Serves : 2-4

---
INGREDIENTS:
250g Whipping Cream
85g Milk
40g Sugar
7g Gelatin Powder (dissolve in 40 gm of water to bloom)
2tbsp Rose Tea/Rose Buds
100g Lychee, chopped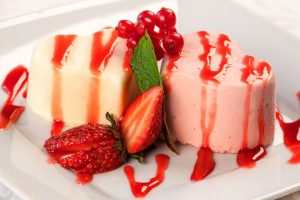 DIRECTIONS:
In a bowl, bloom the gelatin.
In a pot, gently heat up the sugar, milk and part of the whipping cream with the rose buds/tea to infuse.
Add gelatin and stir till dissolve to a gentle boil.
Add the remaining cream and sieve mixture.
Cool over ice bath.
Pour into cups and place in chiller to set.
When set, decorate with chopped lychee and some rose buds.