These moist yet light-as-air Green Tea Financiers by Chef Julie Yee is the perfect finish to a meal!
Cuisine : Baking Course : Dessert Skill Level : Novice
Prep : 20 mins Cook : 12 mins Ready in : 32 mins Serves : 8

---
INGREDIENTS:
110g Egg Whites
150g Sugar
50g Cake Flour
90g Almond Powder
1 tsp Baking Powder
½tsp Vanilla Powder
140g Butter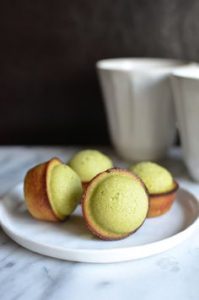 DIRECTIONS:
Mix flour, sugar & almond together.
Lightly whisk egg whites with a spoon.
Pour egg whites into flour mixture & mix well.
Caramel butter & pour into mixture. Mix into a smooth paste.
Mix green tea powder into the paste.
Pipe into greased mold ½ full put in 1 teaspoon. Use Nutella for the filling & fill the mould with mixture till 90% full.
Bake with double trays at 180°C for 10-12mins till golden brown.