Desserts can be delicious and healthy with this Moist Organic Apple Cake topped with Toasted Pine Nuts by Chef Daniele Sarno!
Cuisine : Baking Course : Dessert Skill Level : Novice
Prep : 10 mins Cook : 40 mins Ready in : 50 mins Serves : 6

---
INGREDIENTS:
3 Organic apples
Juice of 1 lemon
120g Muscovado sugar
Seeds scraped from 1 vanilla pod or a few drops of good vanilla essence
3 nos. Organic whole eggs
170g Unbleached organic plain flour
90g Unsalted butter
10g Natural baking powder for 170g flour
30g Pine nuts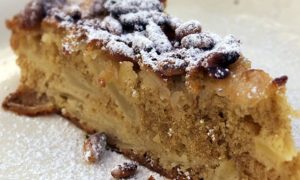 DIRECTIONS:
Gently melt the butter into a small casserole, taking care that it doesn't burn.
Peel the apples and cut them into small pieces. Add the lemon juice and 50 g (1/4 cup) of the sugar. Mix together and set aside.
Break the eggs into a large bowl. Add the remaining sugar and beat together well.
Add the melted butter, the vanilla, the flour and the natural baking powder, mixing well.
Add the apples.
Put the mixture in a cake tin, sprinkle the toasted pine nuts on top and bake for 40 minutes at 170°C or until a skewer inserted in the center of the cake comes out clean.
Serve with whipped cream, custard or vanilla ice cream.