Savour the taste of the sea with this Lobster Bisque recipe shared by Chef Michele Ow. It's a seafood-lover's delight!
Cuisine : European Course : Appetizer Skill Level : Novice
Prep : 20 mins Cook : 130 mins Ready in : 150 mins Serves : 4

---
INGREDIENTS:
1 no. Lobster
Butter
Fish Stock
1 stalk Celery
½ no. Carrot
Fennel (optional)
1 no. Yellow Onion
1 tbsp Tomato Paste
Bay Leaf
Terragon
Cognac
Cream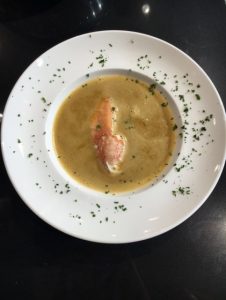 DIRECTIONS:
Steep lobster in boiled water for 10 mins.
Remove lobster and meat and plunge into ice water – remove meat and reserve shell.
Fry lobster shell in butter.
Roast lobster in oven 250°C for 10 mins.
Use lobster shell to make soup.
Add Bay leaf , white wine & tarragon ; add fish stock and a big tbsp of tomato paste.
Boil for 1-2 hours to reduce.
Strain reduced stock.
Dice up onions, fennel, onions & carrots.
Add brandy and allow to evaporate.
Add stock then cream and allow to boil then simmer to reduce.
Season.
Add lobster meat to serve.