Pair this lovingly made zesty Lemon, Lime and Orange Marmalade with scones or cakes for the perfect tea party!
Cuisine : Baking Course : Condiment Skill Level : Novice
Prep : 15 mins Cook : 30 mins Ready in : 45 mins Serves : 350ml

---
INGREDIENTS:
1 Lemon
1 Lime
2 Orange
250 ml Water
500 gm Sugar
1/2 no of Lemon Juice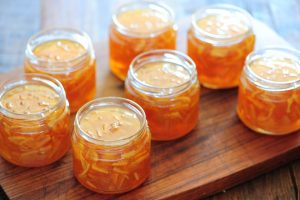 DIRECTIONS:
Prepare and slice the lemon, lime and orange.
Retain the seeds.
Combine slice fruits and water in a pot.
Bring everything to simmer and cook for approximately 20 mins.
Add sugar, lemon juice and cook over medium heat and keep stirring until it reaches 110°C ON the thermometer.
Skim off the white foam if it forms on top of the marmalade when it boils.
Remove from heat and let cool and keep stirring to help release trapped air bubbles.
Pour the hot marmalade into prepared jars, wipe rims and apply lids.