Gaga over matcha? Try these No Bake Mini Matcha Oreo Cheesecakes – creamy and sweet, mini Matcha cheesecakes with an Oreo cookie base! #QuickBites
This tasty potato salad is studded with pieces of bacon for that extra flavour – try this for a quick and handy starter to your dinner table, or even better, a picnic with friends!
Cuisine : European Course : Appetizer Skill Level : Novice
Prep : 15 mins Cook : 20 mins Ready in : 35  mins Serves : 2

---
INGREDIENTS:
50g Streaky Bacon
2-3 Amercan/Dutch Potatoes, cut into 2cm cubes
50g White/Red Onion, finely chopped
2pcs Gherkins, finely chopped
1 tbsp Dijon Mustard/Whole Grain Mustard
50g Mayonnaise
Finely Chopped Spring Onions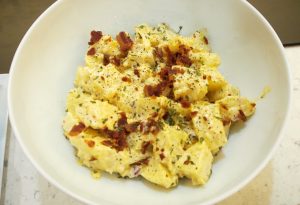 DIRECTIONS:
Preheat oven to 180°C. Lay the bacon on a foil lined baking tray. Bake the bacon for 15 mins. Pour out the extracted fat and transfer to a microwave proof dish. Microwave on high for 2-3 mins. Again pour out the excess fat and all the bacon to crisp by cooling. Coarsely chop the bacon.
Cook the potatoes from cold with a large pot of water until tender. Rinse under cold water and allow it to cool completely.
Mix all ingredients for the dressing. Toss the potatoes with the dressing and set aside to chill. Sprinkle bacon and spring onions over the potato salad just before serving.