These crispy cream choux puffs are a pretty spectacular bake. Not only are they light and airy, and they are topped with a crunchy cookie top!
Cuisine : Baking Course : Dessert Skill Level : Novice
Prep : 20 mins Cook : 10 mins Ready in : 30 mins Serves : 12

---
INGREDIENTS:
105gm Unsalted Butter
5 Eggs
145gm Cake Flour
5gm Baking Powder
225gm Water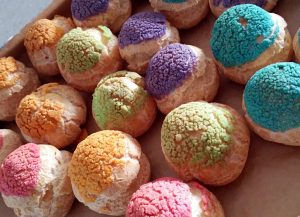 DIRECTIONS:
Boil the butter and water together.
Once it is boiling, add in the flour at one go and remove from heat.
Stir until it resembles a smooth dough and it leaves the sides.
Continue to whip until it is semi cooked, add in the egg one by one until the dough is smooth and elastic.
Pipe on the baking tray, space out evenly and place a piece of crunchy cookie on top of the puff.
Bake at 200 degree Celsius, fan mode for 10 mins.
For the Crunchy Cookie Top, whip butter and sugar until whitish. Add in the egg and mix well. Add in flour and ground almond powder. Roll the dough into a log and chill it until firm. Lastly, slice the cookies thinly for the puff later.