These lemon butter cookies are perfect as a mid-day snack! The tangy lemon flavour cuts through the butter nicely. They are also a cinch to make! 
Cuisine : Baking Course : Dessert Skill Level : Novice
Prep : 30 mins Cook : 15 mins Ready in : 45 mins Serves : 10-12

---
INGREDIENTS:
330g Plain flour
2 tsp Baking powder
240g Unsalted butter
180g Castor sugar
1 tbsp Freshly grated lemon zest
20g Egg yolk (around 1 egg)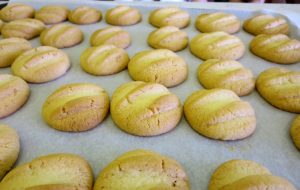 DIRECTIONS:
Cream the softened butter and sugar until light yellowish and fluffy.
Add in the lemon zest and egg yolk and whip until combined.
Add in the plain flour and baking powder into the mixture and mix well.
Shape dough into small balls and place on the tray. Alternatively, you can roll out the dough and cut the shapes out accordingly.
Bake for 180ºC, fan oven for 15 mins or until golden brown.