Chef Chris Ng shares the perfect recipe for a luxurious Ricotta Gnocchi with Brown Butter and Sage Sauce which is both light and rich at the same time.
Cuisine : European Course : Main Skill Level : Novice
Prep : 40 mins Cook : 10 mins Ready in : 55 mins Serves : 2

---
INGREDIENTS:
150g Ricotta
30g Toasted bread crumbs
1 Egg yolk
Salt to taste
Pepper to taste
3 tbsp Flour (for rolling)
100g Butter
1 tsp Sage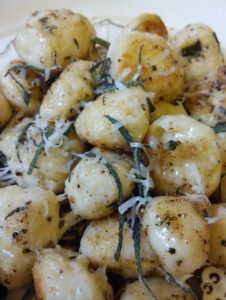 DIRECTIONS:
Drain the ricotta.
Mix the ricotta, egg, bread crumbs, salt and pepper.
Let the mixture sit for half an hour to allow the bread crumbs to thicken the mixture.
Roll the dough into small balls using well- floured hands. Drop the ball into a bowl of flour and gently shake the bowl so that the outside of the ball is well covered with flour.
Boil in well salted water until they float to surface. Remove from water.
Melt butter till slightly brown. Add in the gnocchi and sage. Toss till well coated.
Serve.