You can now make a fantastic seasoned lamb with this recipe from Chef Anil Singh. It is seasoned to perfection and taste fantastic with the creamy Hollandaise Sauce!
Cuisine : European Course : Main Skill Level : Novice
Prep : 15 mins Cook : 20 mins Ready in : 35 mins Serves : 1

---
INGREDIENTS:
3pcs of Lamb Rack
1tsp Cumin Powder
1tsp Smoked Paprika
8pcs Basil Leaves
1/4tsp White Pepper
1/2 tsp Chicken Powder
2 Eggs
Palin Flour as needed
50g Bread Crumbs
4 Egg Yolk
2tbsp White Vinegar
50g Melted Butter
Salt as needed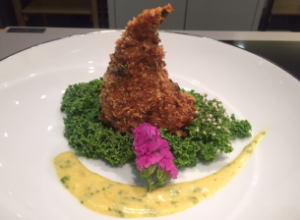 DIRECTIONS:
In a bowl, add cumin powder, smoked paprika, basil leaves, white pepper, and chicken powder and mix it.
Place the lamb in the bowl and mix it together with the mixed spices. Set aside.
After marinating, tap the lamb rack to flour, dip into the egg, bread crumbs and then fry.
Boil water and then place a silver bowl on top.

Add egg yolk, white vinegar, butter, and salt in the silver bowl until it thickens slightly.