Relish every spoonful of this delicious, lemony yogurt cake studded with blueberries recipe by Chef Claire!
Cuisine : Baking Course : Dessert Skill Level : Novice
Prep : 20 mins Cook : 40 mins Ready in : 540 mins Serves : 12

---
INGREDIENTS:
100g Unsalted Butter
20g Vegetable Oil
180g White Sugar, Fine or Caster
2 Eggs, 60-65g
185g Plain Yogurt, Unsweetened*Pot Set or Greek
15g Lemon Juice
Zest of ½ lemon
1/2 tsp Lemon Extract (Optional)
1/2 tsp Vanilla Bean Paste/Extract (Optional)
225g Cake Flour
2 tsp Baking Powder
3/4 tsp Baking Soda
1/2 tsp Sea salt, Fine
50g Frozen Blueberries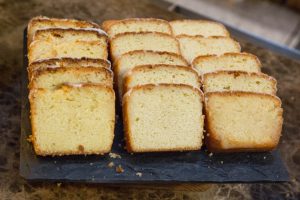 DIRECTIONS:
Preheat oven to 180°C without fan.
Combine butter, oil and sugar in a mixing bowl.
Using the paddle attachment, cream the butter till light and fluffy. Start on slow till combined. Increase to medium high speed for 3-5mins
Combine yogurt, lemon juice, zest and flavourings and set aside.
Sift all the dry ingredients together and set aside.
Once the butter is well creamed, on medium high speed, add one egg at a time.
In alternate batches, add the sifted flour and yogurt mixture on slow speed.
Once well combined, fold in the frozen blueberries.
Divide the batter into 420-430g portions into 2 lined 6" cake tins.
Tap to remove air bubbles. Level the cake using a spatula.
Bake for 30-40mins till a skewer comes out clean.
Cool until room temperature and chill the cake overnight.
* This cake keeps up to 3 days at room temperature. To use as a layered cake, it is best baked a day before and kept chilled or frozen for neat cake layers.
Variations:Orange scented – Add ½ tsp Orange extract + Zest of 1 Orange Instead of blueberries, use raspberries or strawberries.