Savour the combination of this sweet and savoury Coffee Pork Ribs with Cider Braised Apples that will leave you wanting more!
Cuisine : Asian Course : Main Skill Level : Novice
Prep : 75 mins Cook : 45 mins Ready in : 120 mins Serves : 2

---
INGREDIENTS:
4pcs Meaty Pork Ribs
1/4 tsp Bicarbonate of soda
1 tbsp Water
1 tbsp Light soya sauce
1/4 tsp Coarse ground black pepper
Cornstarch/ potato starch for dusting
Sauce
2 tbsp Sugar
1/2 pcs Cinnamon Stick
100ml Water
2 tbsp Ketchup
150ml Water
1 tsp Instant coffee granules
2 tbsp Maltose
1/4 tsp Vanilla essence
1 tbsp Light soya sauce
1/2 tsp Dark soya sauce
Cider Braised Apples
11 tbsp Sugar
4 tbsp Cider Vinegar
1 sprig Thyme
1/2 no Cinnamon Stick
100ml Water
1 Large apple, peeled and cored, cut into 8 wedges
Base
Shredded lettuce and red cabbage
Garnish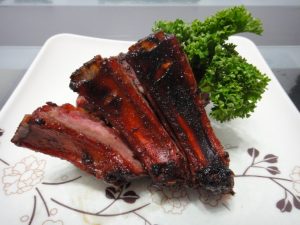 DIRECTIONS:
For the Coffee Pork Ribs, follow step 2 to 5.
Rub the pork ribs with the prepared bicarbonate of soda dissolved in water for an hour. Remove excess soda by rinsing the ribs with fresh water.
Marinate pork ribs with soya sauce, black pepper. Dust with potato starch and pan fry in hot oil till golden brown.
Caramelize sugar with cinnamon stick and water till golden brown. Add ketchup and rest of ingredients for sauce. Cook until sauce is slightly syrupy.
Toss pork ribs with sauce until evenly coated. Bake pork ribs in a preheated oven @ 180C for 15 mins, turn the ribs around every 5 mins. Serve hot on lettuce bed and garnish with toasted sesame seeds.
For the Cider Braised Apples, follow step 7 to 9.
Combine sugar, vinegar, thyme, cinnamon stick and water together in small sauce pan.
Add the apples and braise for 10-15 mins until tender.
Use as desired.