Layered Salmon Tartar with Kaffir Lime Zest & Salmon Roe on Cucumber Rose and Wasabi Cream
by Susanne Despature

A mouthwatering spin to the traditional beef tartare. This recipe is easy on the palate but just as gratifying! Prepare in advance and keep them covered and refrigerated until you are ready to serve.
Cuisine : Fusion Course : Appetizer Skill Level : Novice
Prep : 35 mins Cook : 0 mins Ready in : 35 mins Serves : 4

---
INGREDIENTS:
For Salmon Tartar

150g Smoked Salmon (sliced)
250g Raw Salmon (sushi quality, without skin or fat), frozen for at least 1 day
1-2 tbsp Olive Oil (Extra Virgin)
½ zest of Kaffir Lime (finely grated)
½ bunch of Spring Onion (finely chopped)
3 Small Potatoes (Brastagi), cooked 1 day before (with skin, in salt water)
25ml Cream (35% fat)
Salt, Pepper, Lime Juice

Wasabi Cream

50ml Cream (35% fat)
¼ espresso spoon of Wasabi
½ Lime (juice)
Salt and Pepper

To Serve

1 Japanese Cucumber
40g Salmon Roe
Dill and Shiso Sprouts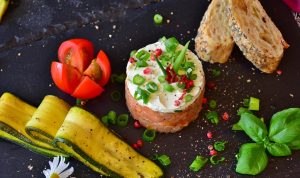 DIRECTIONS:
          For Salmon Tartar
Prepare a tray with 4 rings of 5 cm diameter and place it into the fridge.

Peel the potatoes and cut in fine slice.

Form 4 little roses with 4 stripes out of the smoked salmon slices. Place in a small container, cover and refrigerate.

Chop the remaining smoked salmon finely and place in a bowl.

Cut the slightly unfrozen Salmon in 4 x 4 mm cubes and add to the smoked salmon. Add finely chopped spring onion, kaffir lime zest and olive oil.

Mix with a spoon, season to taste with salt, pepper and lime juice (not too much lime juice, it will blanch the salmon!)

Cover the bottom of the rings with salmon tartar, cover with 2-3 slices of potatoes, drizzle a little bit of cream and sprinkle with some chopped spring onions.

Repeat and finish with salmon tartar on top. Press with a spoon in order to compress the tartar (so it will stay in shape once you remove the ring!)

Refrigerate.

For Wasabi Cream

Combine all the ingredients in a small bowl and mix – season to taste with salt & pepper.

Refrigerate.

To Serve

Wash the cucumber, then slice it finely (I use a ceramic slicer to get ultra thin slices) and form a rose in the middle of each plate.

Place a ring with tartar in the middle of the rose and remove the ring.

Garnish with the smoked salmon rose, salmon roe and dill.

Drizzle a little bit of wasabi cream around and decorate with salmon roe and shiso sprouts.

Serve with freshly baked brioche or baguette.