These Mini Chocolate Chip Cookies are a cinch to make – wash them down with a glass of cold milk for a perfect teatime snack!
Cuisine : Baking Course : Appetizer Skill Level : Novice
Prep : 10 mins Cook : 20 mins Ready in : 30 mins Serves : 4

---
INGREDIENTS:
115g Unsalted Butter
90g Castor Sugar
100g Brown Sugar
55g Eggs
210g Plain Flour
5g Bicarbonate of Soda
Pinch of Salt
Mini Chocolate Chips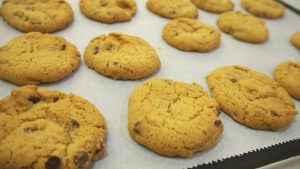 DIRECTIONS:
Cream butter and all the sugar until light and fluffy.
Add in the egg and mix well.
Add in the flour and salt gradually and combine well.
Toss in the mini chocolate chips and mix well.
Spoon 1 tbsp of cookie dough on the tray and space out evenly.

Bake at 180ºC for 15 – 20 mins.