Learn to make a traditional and mouth-watering Nonya Kueh Salat which layers of flavourful rice topped with sweet kaya custard.
Cuisine : Baking Course : Dessert Skill Level : Novice
Prep : 220 mins Cook : 75 mins Ready in : 295 mins Serves : 6-8

---
INGREDIENTS:
300 gm Glutinous Rice (Pulot Layer)
150 gm Thick Coconut Milk (Pulot Layer)
60 gm Water (Pulot Layer)
1/4 teasp Salt (Pulot Layer)
Pandan Leaf (Pulot Layer)
3 no Eggs (Pandan Layer)
100 gm Sugar (Pandan Layer)
1 tbsp Custard Powder (Pandan Layer)
40 gm Rice Flour (Pandan Layer)
50 gm Fresh Pandan Juice (Pandan Layer)
1/4 teasp Salt (Pandan Layer)
280 gm Thick Coconut Milk (Pandan Layer)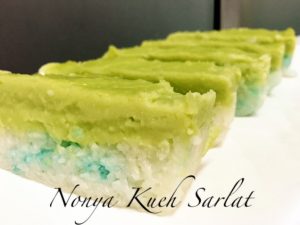 DIRECTIONS:
To make the rice layer, start by soaking the rice for at least 3hrs.
Pour coconut milk. Water & salt into it.
Put the pandan leaf and steam for 30mins.
Drizzle with the bunga telang flower juice if using.
** Check rice is cooked or not, if not drizzle with 1 tbsp. of water.
Use a fork to slight mix the blue rice.
Press rice with wet a presser or spatula till slightly compact.
Keep rice in steamer while preparing the kaya.
To make the kaya layer, start by mixing sugar, custard powder, rice flour, fresh pandan juice, salt and thick coconut milk except the eggs till smooth.
Add in the eggs last.
Cook over the medium heat till slightly thickened.
Pour over the hot rice & steam at medium low fire for another 25mins till kaya has soft set.
Tips: Do not soak glutinuous rice overnight as all the fragrant will be dissolved. |Pro-long or high heat steaming of the kaya will dehydrate and "aged" the kaya. | Cover a dry towel over the kaya to prevent steam water from staining the kaya.