This tasty Steam Ginger Marinated Chicken with Jin Hua Ham and Mushrooms dish will surely get you salivating! Prepare this tender and juicy chicken dish, which contains the finest essence of Jin Hua Ham and mushrooms. 
Cuisine : Asian Course : Main Skill Level : Novice
Prep : 70 mins Cook : 20 mins Ready in : 90 mins Serves : 4

---
INGREDIENTS:
Chicken

1 tbsp Oyster Sauce
1 tsp Dark Soya Sauce
12 slices of Ginger (finely sliced)
400g Boneless Chicken Leg (cut into 4cm dices)
½ tsp Coarse Ground Black Pepper
1 tbsp Corn Starch

Assembly

12 pieces of Jin Hua Ham, sliced (use Italian Parma Ham if Jinhua Ham is not available)
12 pieces of Chinese Dried Mushrooms (soaked and stalks trimmed)
Dried Lotus Leaves, soak in warm water for 10 minutes

Garnishing

Dash of Shaoxing Huatiao Wine (绍兴花雕酒)
Coriander Leaves (香叶)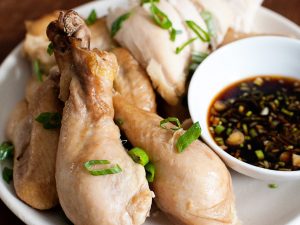 DIRECTIONS:
Marinate chicken with rest of ingredients for an hour.
Arrange chicken on a steaming plate lined with lotus leaves. Alternate each piece of chicken with a slice of ham and a piece of mushroom.
Steam chicken for 20 minutes. Serve chicken with a dash of wine and coriander leaves over rice.