Celebrate this Chinese New Year by baking melt-in-the-mouth Kueh Bangkit that is crumbly coconut cookies made with sago flour.
Cuisine : Baking  Course : Dessert  Skill Level : Novice
Prep : 35 mins  Cook : 20 mins Ready in : 55 mins  Serves : 100 pieces
---
INGREDIENTS             
Group 1

150gm Tapioca Flour (after fried)
200gm Sago Flour (after fried)
8 Pandan Leaves

Group 2

130gm Pure Thick Coconut Cream (Squeeze from 800gm of freshly grated coconut)
A pinch of fine Salt
60gm Fine Sugar (part 1)

Group 3

60gm Fine Sugar (part 2)
25gm/ 1.5no Egg Yolk
* Extra Tapioca Flour for Dusting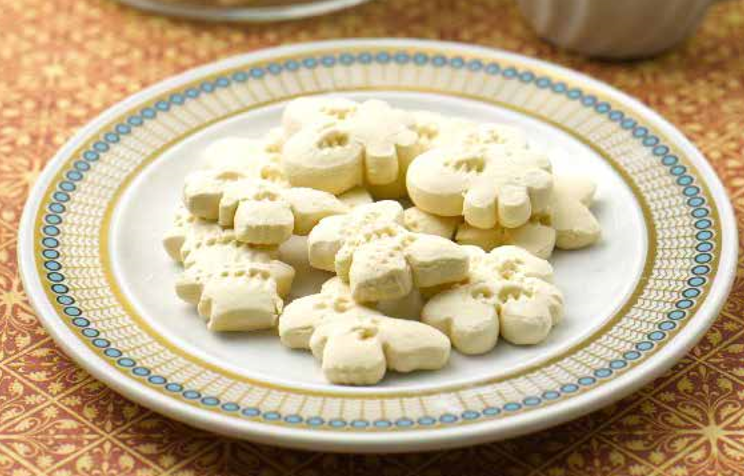 DIRECTIONS
Preheat oven at 20 minutes at 165C
Fry Group 1- tapioca flour, sago flour with the pandan leaves  till light & fluffy, about 20 minutes.
Mix Group 2 – coconut milk, sugar (part 1) and salt.
Whisk Group 3 – egg yolks with the sugar (part 2) for 5 minutes.
 Add in the Group 2 Coconut milk into the egg yolk mixture and whisk together till the sugar melt.
Pour in the sifted flours. Knead till a soft dough is obtain.  Cover the dough with a damp cloth.
Roll out 5mm thick & cut out patterns & placed on lined tray.
Add in a small portion of new dough to the remainder drier dough before rolling out.
Use a clipper to pinch patterns. Leave to dry for 15 minutes before baking.
Bake at 160C for about 20 minutes till the cookies are totally dry.  The base should be light brown and the top is white.
Tips:

You can use all tapioca flour if sago flour is unavailable.
Let the cookies rest before baking ensure the pattern more visible.
You can also bake the flour in the oven at 150C for 30 minutes.