The fluffiness of Japanese Souffle Sponge and the aromatic Vanilla Bean Egg Custard Cream is the ideal tea time treat!
Cuisine : Baking Course : Dessert Skill Level : Novice
Prep : 60 mins Cook : 20 mins Ready in : 80 mins Serves : 6

---
INGREDIENTS:
70g Fresh Milk
80g Egg Yolks
70g Sunflower Oil
80g Cake Flour or Japanese silky soft flour
22g Maple Syrup
165g Egg Whites
65g Castor Sugar

Japanese Vanilla Bean Egg Custard Cream

300g Fresh Milk
1/2 tsp Fresh Vanilla Bean Pod
50g Egg Yolks
60g Castor sugar
25g Cake Flour
20g Unsalted Butter, softened
100-150g Whipped Dairy Cream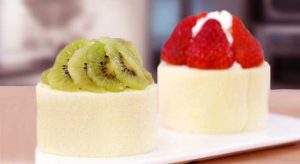 DIRECTIONS:
Mix fresh milk, egg yolks, sunflower oil, cake flour and maple syrup together.
Whip egg whites and castor sugar till stiff peaks.
Fold the two mixtures together.
Pour it onto a well-lined baking tray.
Bake at 190°C non-fan mode for 18 mins.


For the Japanese Vanilla Bean Egg Custard Cream

Mix egg yolks, castor sugar and cake flour together.

Boil fresh milk and fresh vanilla bean pod and slowly pour into mixture.

Bring the mixture back to the stove over a bain marie and cook until the mixture thickens.

Sieve the mixture while its hot and add in unsalted butter. Leave it aside to cool.

Add in whipped dairy cream and mix well and the cream is ready to be used.