One of the stunning dishes that she produced on Masterchef Australia, Audra's Chocolate Frangipane Tart is presented beautifully and tastes fantastic! The pears balance the richness of the chocolate, and the delicious shortcrust pastry adds a lovely layer of flavour and texture! 
Cuisine : Baking Course : Dessert Skill Level : Novice
Prep : 40 mins Cook : 60 mins Ready in : 140 mins Serves : 8-12

---
INGREDIENTS:
For the Chocolate Shortcrust Pastry

170g Plain flour
2 tbsp Cocoa powder
1 heaped tbsp Icing sugar
130g Unsalted butter, cold and diced
1 Egg yolk

For the Frangipane

170g 70% dark chocolate, melted
85g Unsalted butter, room temperature
85g Caster sugar
2 Eggs
1 tsp Vanilla extract
85g Almond meal
1 tbsp Flour
2 Ripe packham pears (or bosc, corella) – included in poached pears below

For the Poached Pears

5 Medium packham pears, skinned with a peeler, halved or left whole
2½ cups Water
½ cup Vino cotto (optional)
½ cup Brown or raw sugar (less if you want it less sweet)
1/8 cup Verjuice (or lemon juice)
1 Vanilla bean, halved and seeds scraped Lemon peel
4 strips Lemon peel
1 Small cinnamon quill (optional)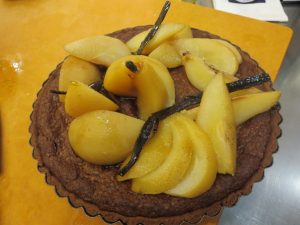 DIRECTIONS:
         For the Chocolate Shortcrust Pastry
Butter a 24cm loose base tart tin and dust lightly with flour.

Place flour, cocoa powder and sugar in a food processor. Blend for 10 seconds. Add butter and pulse until mixture resembles coarse breadcrumbs

With the motor running, add the egg yolk and just enough ice water until a dough forms.

Remove dough, flatten into a disc and wrap with cling film. Rest in the refrigerator for at least 20-30 minutes.

Preheat oven to 180ºC.

Roll out the dough between 2 sheets of greaseproof paper or plastic sheet until 2mm thick. Line the tart tin with the pastry, trimming off the edges.

Line with foil or greaseproof paper, fill with dried pulses or baking beads and blind bake for 20-30 minutes until lightly golden. Remove the filling and bake for a further 5-10 minutes. Remove from the oven and set aside to cool.

For the Frangipane

Melt chocolate over a ban marie or microwave on high in 10 second bursts, stirring in between. Set aside and allow to cool.

In a medium size bowl, whisk butter and sugar until light and fluffy.

Add eggs, one at a time, beating well after each addition.

Add vanilla extract and chocolate, whisk well.

Add almond meal and flour, mix well.

Fill the tart shells with the frangipane mixture, smoothing out surface.

Bake for 40 minutes or until cook through.

Top with pears and serve with vanilla cream.

For the Poached Pears

Peel pears.

Place water, vinocotto (if using), sugar, verjuice or lemon juice, vanilla bean, lemon peel and cinnamon in a small-medium saucepan. Bring to the boil.

Add pears, ensuring all are submerged in the poaching liquid. Cover with a cartouche

Lower the heat and simmer until the pears are tender. Remove pears and allow to cool.

Reduce the poaching liquid further to a syrupy consistency and allow to cool.

Halve some pears, place them on top of the tart and drizzle over some of the reduced poaching liquid just before serving. For smaller individual tarts, the pears can be sliced from the top stem to the bottom on a diagonal. Then twist slightly downwards to create a fan design.

Tips

Do not over process the dough or the pastry will be tough.

Handle the pastry as little as possible to keep it short and crisp.

Add as little water as possible to the dough to avoid too much shrinkage.

Buttering the tin and dusting it lightly with flour will help avoid the pastry sticking to the tin.

When melting the chocolate, ensure water does not fall into the chocolate or this will seize the chocolate.