Japanese Ainame Fillet, Orange Fennel Salad, Ginger and Kikkoman Dressing
by Felix Chong

Known to be a seasonal fish, this beauty is a real catch and can be enjoyed in different ways. Watch and learn as Chef Felix Chong adds his spin on this fish by complementing it with an Orange Fennel Salad with Ginger and Kikkoman Dressing. The light salad and dressing ensures that the Ainame Fillet is truly the star of the dish!
Cuisine : Asian Course : Dessert Skill Level : Novice
Prep : 30 mins Cook : 5 mins Ready in : 35 mins Serves : 2

---
INGREDIENTS:
For the Ginger and Kikkoman Dressing

1 tbsp Kikkoman soya sauce
1 tsp Ginger, grated
Dash of Sesame oil
3 tbsp Extra virgin oil
Pinch of White sesame seed
1 tsp White wine vinegar

For the Orange, Fennel Salad

½ pc Orange
½ pc Fennel
Pinch of Chives, chopped
3 leaves of Basil
2 pcs Cherry tomatoes
½ pc Beetroot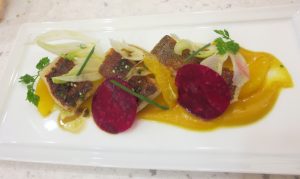 DIRECTIONS:
For the Ginger and Kikkoman Dressing
Toast the sesame seeds till fragrance comes out, leave aside to cool down.
Remove the ginger skin and grate finely.
Place all ingredients and mix well.
For the Orange, Fennel Salad
Remove the skin of orange, dissect the orange.
Slice the fennel with a slicer machine very thin and soak in ice water.
Halve the cherry tomatoes.
Place all ingredients in a mixing bowl and toss lightly with salt and extra virgin oil.