An elegant French dessert consisting of meringue floating on crème anglaise (a vanilla custard). Taste the light vanilla frangrance as the meringue melts in your mouth.
Cuisine : Baking Course : Dessert Skill Level : Novice
Prep : 25 mins Cook : 40 mins Ready in : 65 mins Serves : 4

---
INGREDIENTS:
Vanilla Custard

50cl Fresh Milk
1 pod of Vanilla
100g Caster Sugar
3 Egg Yolk
½ tbsp Corn Starch (10g)

Mango Passion-Fruit Coulis

1 Mango
2-3 Passion Fruit Juice (without seeds)
5-7cl Sugar Syrup
1 Lime Juice

Egg Whites

3 Egg Whites
40g Caster Sugar
1 pinch of Cream of Tartar
½ Lime (zest finely grated)
100g Grated and Roasted Coconut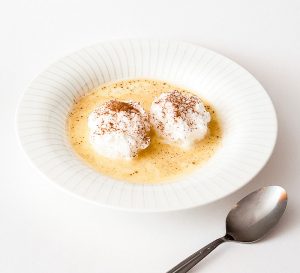 DIRECTIONS:
          For Vanilla Custard
In a pan, bring the milk to a boil. Open the vanilla pod and add the seeds & pod – cover the pan and let the vanilla infuse for 15 minutes or more.

In a bowl, combine sugar and egg yolks and whisk until the mixture is light and foamy. Add the corn starch and mix with egg mixture.

Bring the vanilla milk to a boil, remove the pod and pour it over the egg mixture, stirring constantly.

Pour everything back into the pan over medium heat. As you whisk — you must whisk constantly to keep the eggs from scrambling — you'll see that the cream will start out light and foamy, then the bubbles will get bigger, and then, as it gets hotter and hotter, it will start to thicken and the whisk will leave tracks. Heads up at this point — the tracks mean the cream is almost ready. Don't stop whisking or checking the temperature, and have patience —depending on how much heat you're giving the cream, getting it thick can take as long as 10 minutes.

As soon as it comes to a boil*, remove the cream from the heat and strain it into a bowl. Let the cream stand, stirring occasionally, until it cools to 40 degrees C, about 10 minutes (it will thicken even more). You can put the bowl on an ice bath to drop the temperature faster.

*Tip: Starch helps the cream to thicken and prevents the eggs from curdling when brought over 85°C.

For Mango Passion-Fruit Coulis

Peel the mango and cut the flesh in cubes.

Put them in a blender, adding some sugar syrup, lime juice and passion fruit juice. Blend them and strain if necessary

For Egg Whites

In a bowl, whisk the egg whites and cream of tartar until stiff. Add the sugar and whisk until the egg whites form a « bird beak ». Add the lime and mix with the egg white.

Spoon the stiff egg white in small mould (ceramic or glass).

Cook in a microwave at 600 W for 45 seconds, four at a time. When cooked, remove from oven and coat them with some roasted coconut.

To Serve

In a bowl, ladle some vanilla custard, add some mango passion-fruit custard and top with a « floating island ».