Put a twist to your pork loin with this recipe by Chef Eric Low – roasted in the oven till the meat is tender and succulent, the pork loin goes well with the Apple Chutney and creates a unique blend of flavours!
Cuisine : European Course : Main Skill Level : Novice
Prep : 30 mins Cook : 45 mins Ready in : 75 mins Serves : 10-12

---
INGREDIENTS:
For the Pork Loin
2kg Pork Loin, 7-8cm thick
1 tbsp Chopped Garlic
1 tbsp Paprika
2 tsp Salt
1 tsp Coarse Ground Black Pepper
4 stalks Fresh Rosemary, chopped
1 tbsp Dijon Mustard
6 tbsp Olive Oil
Roasting Vegetables
4 large Onions, cut into wedges
4 tbsp Olive Oil
1 tsp Salt
1 tsp Coarse Ground Black Pepper
For the Apple and Raisin Chutney
100g Sugar
4 tbsp Water
1pc Cinnamon Stick
300ml Apple Juice
30g Raisins, diced
4 Medium Green Apples, diced
Cornstarch for thickening
2 tbsp Cider Vinegar
1 tsp Lemon Zest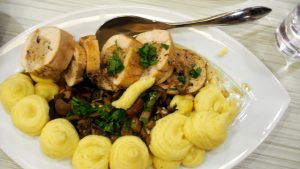 DIRECTIONS:
          For the Pork Loin
Mix the spices, seasonings, mustard and olive oil together. Rub all over the pork loin.

Preheat oven to 180°C. Line baking tray with foil. Toss roasting onions with olive oil with salt and pepper.

Spread onions on baking tray and place the pork loin on top. Roast in the oven for 40-45 minutes.

Allow to rest for 20 minutes before slicing. Puree the roasted onions and dilute with some water to a sauce consistency. Season to taste. Serve roasted onion sauce with sliced pork loin.

For the Apple and Raisin Chutney

Caramelize sugar with cinnamon stick. Pour in apple juice. Add the raisins and cook for 2 minutes.

Add in the diced apples and cook for another 5 minutes. Thicken chutney with cornstarch. Add in the lemon juice and zest. Remove from heat and keep warm.