Super light, moist, and mildly sweet, this Honey Earl Grey Tea Loaf is the perfect addition to a morning cup of tea or coffee.
Cuisine : Baking Course : Dessert Skill Level : Novice
Prep : 30 mins Cook : 150 mins Ready in : 40  mins Serves : 12

---
INGREDIENTS:
200g Bread flour
130g Cake flour
½ tsp Milk powder
5 gm Salt
11g Instant yeast
3 tbsp Honey
1 no. Egg
100ml Earl grey tea
75g Butter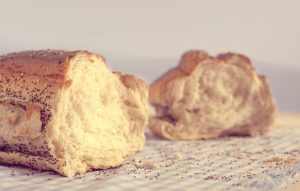 DIRECTIONS:
Place all ingredients (except oil) into kneading bowl. Knead until it forms a dough.
Add butter and continue knead till the dough can be stretched to form a "window panel". Cover and leave aside to rest for about 30mins.
Turn dough out onto a well-floured work surface. Divide dough into 4 long logs and twist it and place in the Loaf Tin.
Leave to proof till double.
Before baking, egg wash it. Bake in preheated oven at 180°C for 20mins.