Home-Smoked Norwegian Salmon with Arugula Salad, Yoghurt and Cucumber Dressing
by Felix Chong

Fancy home-smoked salmon for sandwiches or salad? It's right at your fingertips now with the Nordic Ware Kettle Smoker where everything is possible! Don't worry about getting your kitchen all smoky because the Smoker will do the job for you. Once you get the hang of smoking your own seafood, meat or even dessert, you will never stop experimenting! You will also be able to create all kinds of smoked flavours that you want to achieve, such as fruity smoke flavour, tea smoke flavour or herbal flavour smoke.. it never ends!
Cuisine : European Course : Appetizer Skill Level : Novice
Prep : 45 mins Cook : 15 mins Ready in : 60 mins Serves : 4

---
INGREDIENTS:
100g Smoked Oak Chips
250g Salmon
20g Arugula Salad
4 tbsp Plain Yoghurt
1 piece Japanese Cucumber
Pinch of Pink Peppercorns (optional)
Extra Virgin Oil (enough to drizzle)
Pinch of Sea Salt Flakes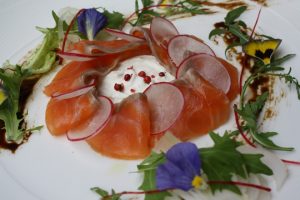 DIRECTIONS:
Lightly season the salmon with sea salt for 20 minutes.
Wash off the salt after 20 minutes and pat dry the salmon.
Place the oak chips in the kettle and heat it up.
Once the smoke is out, place 1 cup of ice cubes into it, place the salmon on the round tray that's with the holes and place it on top of the cold smoke and cover it, allow it to smoke for 15 minutes.
After 15 minutes, remove from the tray and set aside.
Place the yoghurt and chopped cucumber into a mixing bowl and mix well.
Slice the salmon diagonally thinly and place it around the plate.
Toss the arugula salad with sea salt flakes and extra virgin oil and place it around the smoked salmon.
A spoonful of the yoghurt and cucumber dressing in the middle of the dish.
Lightly crush few pieces of pink peppercorn on the dish (optional).
Ready to serve!