These Hokkaido Cakes with Lemon Cream are light and fluffy – the lemon cream cheese filling adds a nice surprise when you bite into the centre of the cake! 
Cuisine : Baking Course : Dessert Skill Level : Novice
Prep : 45 mins Cook : 15 mins Ready in : 60 mins Serves : 12

---
INGREDIENTS:
Batter A

90g Full cream milk
80g Sunflower oil
25g Castor sugar
100g Cake flour
80g Egg yolks
2 tbsp Freshly grated lemon zest

Batter B

180g Egg whites
55g Castor sugar

For the Lemon Crème

300g Dairy whipping cream
35g Icing sugar
2 tbsp Freshly grated lemon zest

For the Lemon Crème Cheese Filling Batter A 

125g Cream cheese
25g Icing sugar
½ tbsp Lemon juice
½ tbsp Freshly grated Lemon Zest

Batter B

130g Dairy whipping cream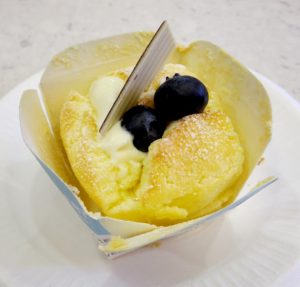 DIRECTIONS:
Mix Batter A together and well combined.
Whip Batter B and add in sugar gradually, continue whisking it until stiff stage.
Fold in Batter B into Batter A gently and well combined.
Scoop the batter into individual square case.
Bake at 180ºC for 15mins, non-fan oven mode.


For the Lemon Crème

Whip dairy cream and icing sugar until soft peak.

Add in lemon zest and whip it until stiff peak.

Storage: This cream can be kept in air tight container in the fridge for 3 days.

For the Lemon Crème Cheese Filling

Whip cream cheese until soft, add in the icing sugar.

Add in the lemon zest and juice and mix well.
Whip Batter B until soft peak forms.

Fold in together with Batter A.
Pipe into the Hokkaido sponge.