You can now enjoy handmade, piping hot Char Siew Chee Cheong Fun from scratch with Chef Julie's recipe!
Cuisine : Asian  Course : Appetizer  Skill Level : Novice
Prep : 20 mins Cook : 10 mins Ready in : 30 mins  Serves : 2-4 Servings
---
INGREDIENTS                                          
Group 1

160g Rice Flour
2 tbsp Tapioca Flour
1 tbsp Wheat Starch (Tang Mien Fen)
900g Water
1 tbsp Shallot Oil/ Sesame Oil
1 tsp Salt

Filling (Mixed Together)

150g Char Siew (diced)/ Prawns (1/2)
1 tsp Corn Flour
Pinch of Pepper
½ tsp Sesame Oil
1 stalk of Parsley

Gravy Sauce (Stir together)

80ml Light Soya Sauce
120ml Boiling Water
1 tbsp Sugar
½ tsp Chicken/ Dashi Granules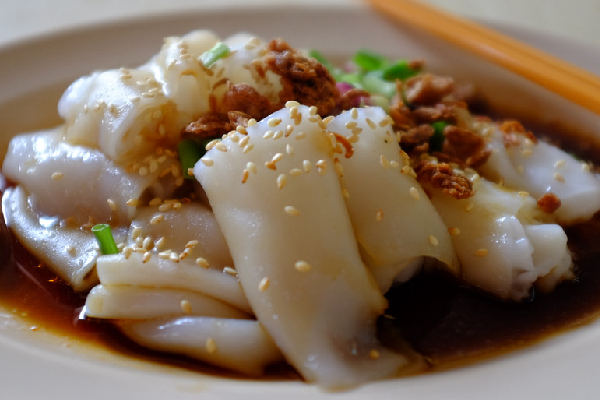 DIRECTIONS
Mix Group 1 ingredients and strain through a sieve.
Prepare a steamer.  Place a white wet cloth onto a rectangle tray (preferably with holes).
Pour in a ladle of batter to form a thin layer on the cloth.
Sprinkle some char siew / prawns onto it.  Steam with high heat for 3-5 minutes.
Brush a little oil on clean table top / flat tray. Removethe cloth and invert the cooked chee cheong fun sheet on it.  Roll up carefully using a scrapper.
Place on serving plate and pour gravy over it.  Sprinkle with shallot crisps and chopped spring onions.  Serve immediately.