Get ready to fall in love with this recipe that puts an Asian twist to classic Cream Puff! Each bite of this rich and creamy Cempedak Cream Puff will have you wanting for more.
Cuisine : Baking  Course : Dessert  Skill Level : Novice
Prep : 40 mins Cook : 40 mins Ready in : 1 hr 20 mins  Serves : 1-2 Servings
---
INGREDIENTS                                          
Choux Puff

60g Unsalted Butter
90ml Water
90ml Milk
2g Salt
80g Plain Flour
2 Large Eggs (120g)

Cempedak Pastry Cream

Pastry Cream

500g Whipping Cream
400g Milk
200g Sugar
100g Corn Flour
100g Milk
160g Egg Yolk
50g Unsalted Butter

Cempedak Chantilly Cream

100g Pastry Cream
300g Whipping Cream
200g Non-Dairy Whipping Cream
300g Cempedak Meat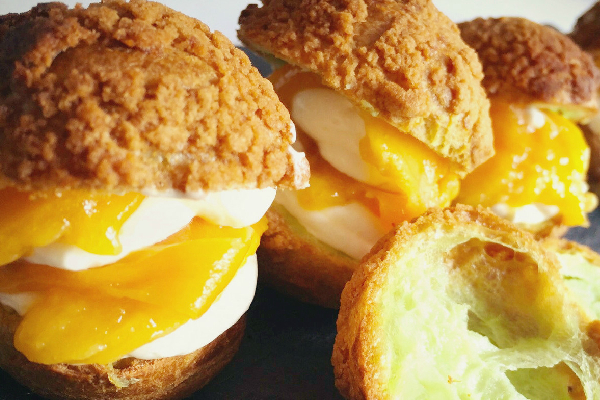 DIRECTIONS FOR CHOUX PUFF
Preheat oven to 200°C.
Sift both flour and salt in a bowl.
In a medium pot, heat up butter, water and salt until the mixture boils.
Add the sifted flour. Continue to stir until the mixture resembles a ball and no longer sticks to the side of the pot.
Remove from heat and cool it down a bit before incorporating the eggs with a mixer gradually until a thick smooth mixture is achieved.
Transfer the dough into a piping bag fitted with a medium plain nozzle.
Pipe the choux into circular shape on a tray lined with baking parchment. Bake in the oven for approximately 20 minutes depending on your oven.
Quickly open the oven to release the steam.
Turn the oven to 190°C and continue to bake for another 8-10 minutes.
Remove from oven and cool off before use.
DIRECTIONS FOR CEMPEDAK PASTRY CREAM
To make the Pastry Cream
In a bowl, combine the 100 gm of milk together with corn flour and egg yolk. Mix and sieve.
Combine milk and 400 gm of sugar in a pot and put to boil.
When boils, add the sifted mixture and continue to whisk till it thickens.
Add butter whisked vigorously till a smooth homogenous mixture is achieved.
Cool before use.
To make Cempedak Chantilly Cream
Whipped both pastry and whipping cream to stiff peak.
Coarsely grind the cempedak meat in a blender.
Fold the cempedak into the pastry cream.
Followed by both cream.
Chill for 15 minutes and pipe into the cream puffs.