Who says healthy food are not yummy? They will realised that its not true when they try this Healthy Yogurt Bark. It's easy to do and most importantly, it's delicious!
Cuisine : Healthy Cooking Course : Dessert Skill Level : Novice
Prep : 10 mins Cook : 0 mins Ready in : 190 mins Serves : 20 pieces

---
INGREDIENTS:
1 cup Natural Yogurt
1 Banana – mashed
3 tbsp Cocoa Powder
1 tbsp Honey
2 tbsp Macadamia Nuts
Garnish with nuts of your choice and sliced bananas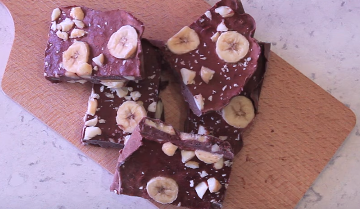 DIRECTIONS:
Mix all ingredients in a large bowl until well incorporated.

Spread evenly on baking tray with baking sheet.

Sprinkle chopped nuts and layer sliced bananas.

Freeze for 3 hours to harden.

Cut and serve!